A unique taste
From a passion for the flavours that have made our local tradition famous, comes Ruliano RUDIS ARMUS. The finest dry-cured pork shoulder, the fruit of ancient knowledge that Ruliano has rediscovered and now offers to those who opt for quality.
This outstanding food product, whose roots lie in the land around Parma, celebrates the butcher's art in all its glory.
The vivid, unmistakable taste of Ruliano RUDIS ARMUS arises from the experience of three generations, and from careful skilled processing by Daniele Montali, who has been able to heighten and define the distinctive features of this latest offering from Ruliano; namely, a heady aroma and a flavour that is intense and decisive on the palate.
Ruliano RUDIS ARMUS is 100% Italian and 100% natural: prime pork, spices and only very little sea salt, the most ancient way to preserve food in a natural way.
With no artificial preservatives or additives, Ruliano RUDIS ARMUS is produced according to the highest quality standards, in full respect of the ancient recipe of Daniel Montali's family.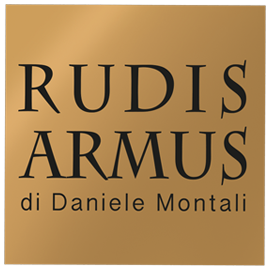 Specifications
Bone-in weight: min. 8kg max. 9,5kg
De-boned weight: min. 5kg max. 6,5kg
Maturation: min. 14 months